Paris City Pass
Incl. Louvre Museum, Seine Cruise, Montparnasse, Airport Transfer (Orly or Charles de Gaulle)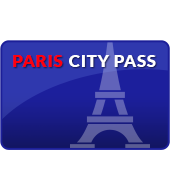 The Paris City Pass is a great option for those who wish to enjoy all of Paris' highlights, without the inconvenience of booking several tickets and having to collect the card.


The City Pass allows you to have everything organised before your departure, so you can get the most out of your trip!

What's included?

Skip-the-line entrance to
Louvre Museum
included

Skip-the-line Ticket for the
Montparnasse
included

Ticket for the
Seine Cruise

Re
turn airport transfer
from Orly Airport or Charles de Gaulle Airport included. Orly Airport Bus stops at Champs Elysees (via Montparnasse) and Charles de Gaulles Airport Bus (via Trocadero and Champs Elysees) stops at Eiffel Tower. From there you can take the taxi to your hotel.

Discount (20%) on
museums
, including Museum Picasso, Orsay Museum, Notre Dame

Discount (20%) on
attractions
, including the Eiffel Tower and Arc de Triomphe

Discount (20%) on
cruises
, including Hop-On Hop-Off Cruise and Dinner Cruise

Discount (20%) on
guided tours

Discount (20%) on
excursions
, including Versailles and Trianons

Discount (20%) on
nightlife
, including the Moulin Rouge
What are the benefits?
Skip-the-line tickets for Paris' busiest attraction - saving you valuable time on your trip!
Includes airport transfer – have a stress-free journey into the city centre
Everything online! You don´t have to exchange or pick-up your City Pass on arrival.
No time pressure! The card does not have a time limit of 24 or 48hrs like other city passes. Visit the museums and attractions when you want and at your own pace.
20% discounts on top museums, attractions, tours and excursions.
Get your additional 20% discount in Paris, to get a general overview : Click here
How does it work:

Step 1. Make your booking. Please select your arrival date and specify which airport you are flying to.
Step 2. After the payment you will be asked about your flight details and preferred visit times for the attractions. Please fill in all the required information, so we could make reservations for you.
Step 3. After your booking you will receive your tickets by e-mail. What is more, you will get a 20% discount code for your additional bookings.
Step 4. Everything is ready! Now you can enjoy some of the best attractions, without having to stay in the long waiting lines.
Important: If you have forgotten to fill in the details of your trip, please send us an email at info@ticketbar.eu with your order number.
Additional information:
The City Pass does not include public transportation in the city, but you can easily buy the Metro Card in stations and hotels
Once you have made your booking, you will be provided with a discount code. With this code you will get a 20% discount on your bookings for Paris' other top museums and attractions. This discount is only available for bookings with Ticketbar.
Charles de Gaulle Airport transfer – the bus leaves the airport every hour, 24hrs a day. The journey into the city centre is around 60 mins.
Orly Airport transfer – bus departs to the city centre between 06:30 and 22:30, every 30 minutes.
Get the most of your Paris trip and book the Paris City Pass!
The ticket will be sent within 24 hours in a seperate e-mail.

Send by email